Downstream Terminals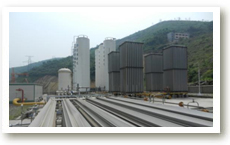 I. Gas Supply Project for Wine Enterprises
The white wine production of Renhuai accounted for 88% of the total soy fragrance white wine production in the PRC. Guizhou Provincial Party Committee and Provincial Government place great emphasis on the development of white wine industry , with the positive introduction of the development strategy of the "Three Buildings" as the fundamental key to ascertain the expedited development of white wine industry in Guizhou Province.
Established in April 2010, Renhuai Famous Wine Industrial Park is the production base of the famous fine white wines including Maotai, Guotai and Datang. Its planned wine production has a total output of 270,000 tonnes in the Park, which is also the only large-scale industry park producing soy fragrance white wine in the PRC.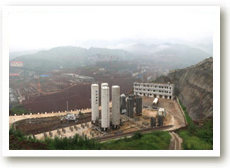 Hua Heng Company under Yuanheng Gas specializes in natural gas supply for the distilleries in the Famous Wine Industrial Park and along both banks of No. 1 River of Chi Shui River in Maotai Town. The respective LNG satellite stations of Maotai and Renhuai Famous Wine Industrial Park have already commenced operation. With the use of gas to replace coal by numerous distilleries and the completion of the projects under construction, there will be ever-increasing demand for natural gas in future.
The completion of Zunyi- Renhuai Pipelines with production commenced in September 2014 signifies the guarantee of both gas sources of pipeline natural gas and LNG satellite stations for Renhuai wine projects and lays a solid foundation for the Company's sustainable, long-term and stable development in the natural gas market of Renhuai region.
---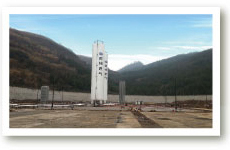 II. High-tech Metal Enterprises
The satellite station of Guizhou Jinlan Aluminum invested and constructed by Hua Heng Company under the Company takes charge of the natural gas supply to Jinlan Aluminum and the peripheral industrial users. The station was completed in November 2012, with a designed storage of 120,000 Standard Cubic Feet and the daily supply reaching 80,000 m3/day.
---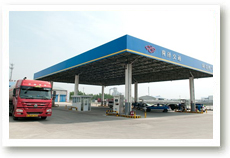 III. Vehicle Gas-Filling Project
In future, the gas for vehicles and vessels will be the significant direction for the application of liquefied natural gas. The Company has cooperated with Heze Transportation Group in the promotion of LNG filling service and taken charge of supplying the natural gas to the LNG vehicles of the passenger transport system in Shangdong. The construction of the first LNG complex station, that is, Heze Mudan Complex Station, was completed in July 2011 with the daily gas filling supply of 30,000m3. In the three years to come, the Company has planned to establish a number of gas stations in Shandong, Henan and Jiangsu.